Campaign for Academic Excellence
The Foundation's Campaign for Academic Excellence provides a continuum of year-round integrated academic support programs that promote high academic standards and help all students succeed at B-CC High School.
Distribution of Grants, FY2018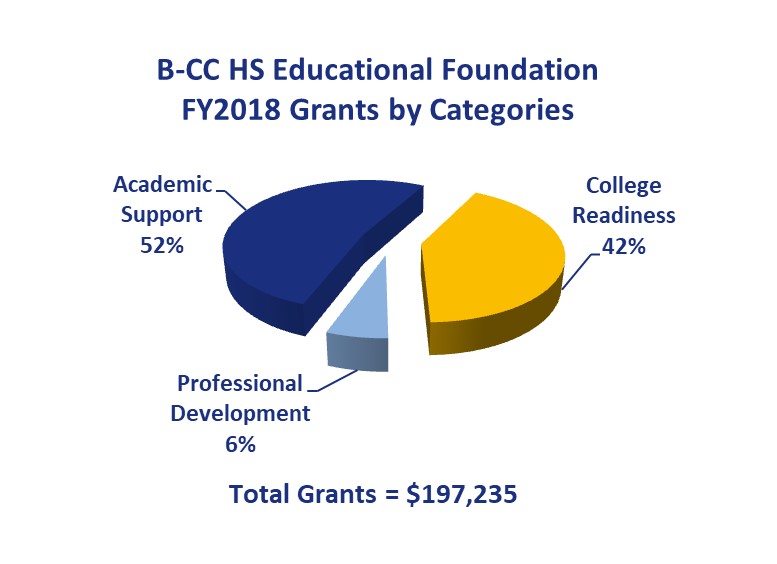 Every year, the Foundation provides high impact grants that support its mission to help all students at B-CC High School to achieve academic success, promote a school environment where every student matter, attract and retain the highest quality faculty, and strengthen the bond between the school and the community. In FY2018, its summer grants funded the 9th and 10th Grade Summer Academies, the Girl Leadership Workshop, the Pre-AP/IB Workshops, and the ESOL Enrichment program. Its academic year grants funded TAP, the after-school academic support program, and program materials and equipment for the Art, English, IB, Music, and PE Departments, as well as the Tattler and the Media Center. Its college-readiness grants supported CollegeTracks and the Essay Writing Workshops. Its Professional Development grants funded speakers and materials for in-school staff training as well as staff's attendance at workshops and national conferences.
Summer Programs
B-CC's Summer Academy Program
9th Grade Summer Academy: a three-week summer program staffed by B-CC and Westland teachers for incoming 9th graders who would benefit from extra assistance to work on English, math, science, study skills, and general school issues.
10th Grade Summer Academy: a one-week summer program for at-risk rising 10th graders to help them explore their post-high school options and plan their high school work accordingly.   Read more…
College Essay Writing Workshop
Three one-week summer sessions where students receive focused instruction and individual feedback from B-CC's English teachers on college application essay writing.   Read more…
Girls Leadership Workshop
A one-week summer program of leadership skill building and empowerment activities for 10th-12th grade girls who have leadership potential, to provide them the inspiration, motivation, and the skills needed to be leaders in their communities.   Read more…
Pre AP/IB Workshops
Two one-week summer programs, one for rising 10th graders and another one for rising 11th graders, to have them experience the skills and tasks that they will encounter in rigorous AP or IB courses and help them build their confidence and develop their skills needed in those higher level courses.   Read more…
School Year Programs
TAP (Time for Academic Progress)
An after-school academic support program staffed by B-CC teachers, offering help in all levels of English, math, science, and social studies to all B-CC students — from those challenging themselves in advanced classes to those struggling in regular classes.   Read more…
B-CC CollegeTracks
A college access and success program to help ensure all B-CC graduates have the opportunity to get onto higher education/career pathways regardless of their family's income or college-going experience.   Read more…
International Baccalaureate Program
The Foundation helps ensure all B-CC students have access to IB classes by paying the exam and registration fees for students who are unable to pay the fees but do not meet the criteria to receive funding from the Maryland State Department of Education.   Read more…
B-CC Annual Writing Contest
The Foundation helps fund the annual writing contest, sponsored by B-CC's student literary magazine, Chips, and B-CC's English Department, where all currently-enrolled B-CC students are invited to submit entries in four categories (short story, personal essay, poetry, and drama) to be judged by professional writers at the Writer's Center in Bethesda.
Departmental Support
The Foundation's annual grants program provides funding for equipment, supplies, and support programs requested by various departments at B-CC.
Career Center: a grant to help defray the cost of Career Partnership Day
Counseling: a grant to cover the fees for fee-waivers eligible TOEFL (Test of English as a Foreign Language) exam takers after MCPS limited aid to only AP and IB exam takers in FY2016.
Journalism: a grant to Tattler, B-CC's student newspaper, to help cover the cost of printing, web hosting, registration, InDesign cloud licenses, animation software for the TV show, the Senior Magazine, and a special 90th anniversary event.
Media Center: a grant for the purchase of two Apple iMac computers and a multimedia projector that has the resolution, brightness, and image size needed for large group presentation, facilitating multi-class events in the auditorium, cafeteria, and gymnasium.
Music: a grant for the purchase of two ipads to replace older laptops allowing better recordings and other options to enhance rehearsals, and a scanner to scan music for posting on the website to facilitate access by students.
Physics: a grant for the purchase of customizable model rocket kits.
Technology: a grant for a projector and equipment to reconfigure the classroom to facilitate instruction and student interaction.
Extracurricular Activities
Lazarus Leadership Fellows Program: a grant to help cover the expenses of the Lazarus Leadership Fellows Program which teaches and strengthens leadership skills in 10th and 11th graders through a series of seminars and meetings with local leaders as well as the development and implementation of a 200-hour community service project by each student addressing a need the student has identified in his/her community.
Professional Development for Faculty
The Foundation's professional development grants provide funding for teachers to attend workshops and conferences, and for professional day speakers and workshops at B-CC.