Program Description
B-CC's International Baccalaureate diploma program maintains an open admissions policy. Students do not have to test in, or meet any entrance requirements to be enrolled in the program. In addition, B-CC students can choose to be either a full diploma candidate and take the full complement of required courses, or a certificate candidate and take only the IB courses that they are interested in. Students make their selection in the spring of their sophomore year.

History
The academically rigorous, world-recognized International Baccalaureate program started at B-CC in 1996, the result of a community initiative to retool and re-engineer B-CC High School. A group of staff, parents, and concerned citizens from all sectors of the B-CC community had formed the Community Coalition of B-CC High School (CC B-CC) in 1994, in response to the effects of steep cuts in the County's school budget on B-CC. The group spent a year researching, surveying, and conducting educational forums and a retreat, culminating in a new initiative, "Stand Up for B-CC 2000", to bring B-CC High School into the 21st century amidst an increasingly urban and cosmopolitan environment.
B-CC's open IB diploma program was part of that new initiative. The "open-access" model reflects the philosophy of the B-CC community – students should be given opportunities to stretch themselves to reach their academic potential. B-CC's program was the first open-access IB program in the Montgomery County Public Schools system. Its success led other schools in the County, including Springbrook, Einstein, Watkins Mill, Rockville, Kennedy, and Seneca Valley High Schools, to follow B-CC's lead and establish open IB programs of their own a few years later.

B-CC HS Educational Foundation's Critical Role
The B-CC High School Educational Foundation played a critical role in helping B-CC's IB program gain its footing during those first few years when there were limited funds available from the County. It provided much-needed grants to the program for curriculum materials and teacher training. It was not until the fall of 2001 that the program received a significant infusion of funds from the County, enabling it to operate for the first time with a full-time coordinator.
Examples of the Foundation's IB grants during those early years include:
$1,000 for program materials in the spring of 1998;
$4,290 for IB physics and chemistry teacher training in the fall of 2000;
$4,000 for IB/AP physics teacher training in the fall of 2001;
$1,000 to bring an IB technology unit to B-CC in the spring of 2002;
$3,000 for IB textbooks in the spring of 2003 when there was no money in the regular school budget for those textbooks; and
$1,500 in the spring of 2003 for the first IB expo.
Since then, the Foundation has provided supplemental funding to the IB program every year. Examples of these recent-year grants include:
the annual subscription of Questia since the fall of 2007 — this web-accessible database of textbooks and periodicals helps diploma students with their research for their Extended Essay and all students enrolled in IB History, IB Psychology, and IB Anthropology courses;
the annual subscription to ManageBAC since the fall of 2010 — this software wrap-around package helps IB students keep track of their progress on their many large projects and their CAS (Creativity, Action and Service) work for the diploma program, and helps IB Diploma and CAS coordinators to completely streamline their administrative tasks;
an accompanist for the live public performances required of IB music students since the fall of 2010.
In addition, the Foundation has funded summer and after-school academic support programs for IB students to ensure that they have the extra help they need to meet the challenges in the IB classes. The first such grant was $1,500 for an IB preparatory program in the summer of 2005 for students entering the IB  diploma program who might need extra support. Since then the Foundation has provided funds for after-school tutorial support for all AP/IB students in English, Science, and Social Studies; brown bag lunchtime seminars to help new and/or struggling IB students; as well as continuing summer support for incoming juniors newly registered for AP or IB classes to help them successfully make the transition to these higher level classes.

Data
FY2014
In FY2014, the Foundation funded, for the 4th year in a row, the annual subscription of ManageBAC, a software package used by diploma students, the CAS coordinator, and the diploma coordinator. It also continued to pay for the annual subscription to Questia, a web-based database of periodicals and texts used by diploma students.
Enrollment:
B-CC's open-access IB diploma program has served over 4,200 diploma and certificate students since its start at B-CC in 1996. The first IB class to graduate from B-CC was the Class of 1999, with 23 diploma students. Enrollment in the program has increased steadily over the years. This past year, the Class of 2014 had 54 diploma students and 342 certificate students; 46 of the 54 diploma students successfully passed the diploma, an 85% pass rate, compared to the worldwide pass rate of 82% and the US pass rate of 75%. Demand for the program continues to increase. For the current 2014-15 school year, there are 93 diploma candidates and 320 certificate candidates enrolled in the program (see table below.)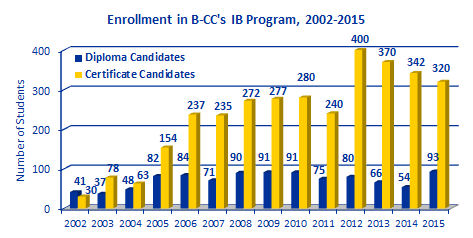 FY2013
Financials:
From 2002-2013, the IB diploma program has received supplemental funding from the Foundation totaling over $48,500. Of these, 49% were for equipment and software, 25% for tutoring and mentoring, and 27% for teacher training.
Enrollment: – Actual and Projected*


* Projected enrollment figures for 2014 and 2015.