Popular Films
"The Carpetbaggers"
"It's a Mad, Mad, Mad World"
"The Unsinkable Molly Brown"
"My Fair Lady"
"Mary Poppins"
On TV
"Route 66"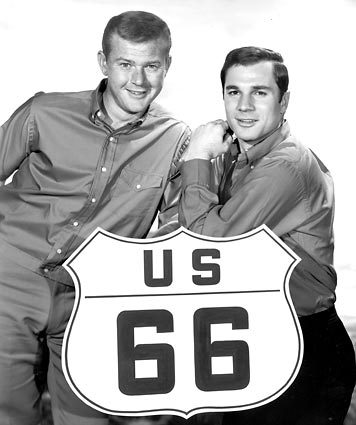 The show was about two young men. played by George Maharis and Martin Milner, who travel across America in their Corvette convertible. The credits of those who appeared read like a who's who of acting in the Sixties including James Brown, James Caan, Robert Duvall, Walter Matthau, Buster Keaton, Lee Marvin, Suzanne Pleshette, Martin Sheen and Robert Redford. The series ran from 1960 to 1964.
Popular Musicians
Roy Orbison
Ella Fitzgerald
Simon and Garfunkel
and if you want to stir still more memories, try this:
Now for some good news!
Update on John Grolig: He has returned home after a long stay in the hospital and then a rehab facility. He is feeling fine again, and even driving a bit!
Update on Melanie Smith: She had a minor stroke recently, but got medical help immediately, and is now fully recovered. The neurologist gave her a clean bill of health, and said she was one of the lucky ones. She was able to call her daughter and get help within one hour of onset.
Our website is undergoing renovation
Sadly, Tommy Sanders, our webmaster for all these years, has decided it's time to step down. We are very grateful for all the time, energy, effort, and creativity he has put into this wonderful resource. Rusty Johnson is taking over; so stay tuned for what comes next.
And another reminder: No more USPS newsletters!
As we have mentioned quite a few times, we will no longer be able to send these newsletters by regular mail. It's expensive and time consuming, so regretfully we will only be able to communicate using email. With this change in mind, we need you to make absolutely sure that we have your correct email address! If not, you will not get any newsletters or other informative emails from your dedicated committee! Please send any changes or updates to
61.committee@gmail.com
Thanks!
If you have any privacy concerns about your email address, please let us know as we can take care of that too. You can update your contact info and share other news by simply
sending us an email!
We also invite you to visit
our Facebook page
. And when you do, please "friend" us, "like" the page and the posts, and add your own comments and photos. Just takes some clicking, and we'll feel lots more popular! Oh, and you don't have to have a Facebook account to view all the many photos of our past lives or to add your own post about your current life. We're trying to add new photo(s) every Thursday. Who knows, you might find your younger self poping up. Our latest posts include bathing beauties, beautiful twins, and a couple of heartthrobs. Take a look!
Brought to you by your B-CC Communication Team
Please send us your news, and any changes to your contact information.