Miss Fullerton was "the" teacher who most affected my life. She was the person who enriched my soul, planted the fertilizer and foreign matter that gave me the self confidence that I could achieve my dream of becoming a surgeon, next to my mother and my wife, Sarah (1939-2011). Miss Fullerton was always in the back of my mind, urging me on, saying, "You can do it! You can do it! You can do it!" and I did, finishing my formal training in 1971.
I have so many remembrances of her enthusiasm for teaching and her passion for the students; no question was too insignificant or trivial.
Her mottos were: "Praise; don't criticize!" and "You can catch more flies with honey than with vinegar!"
On April 13, 2005 (her 80th birthday), Cathy Page Raphael, former student and local friend, planned a special surprise train ride and birthday party. Over 80 former students ("cherubs" she called them) from 14 different states attended. They were medical doctors, veterinarians, nurses, researchers, teachers, medical school faculty, and one engineer working for NASA on the Hubble Space Telescope. There were numerous tributes, stories from her classroom, and numerous examples of how Miss Fullerton shaped and influenced their lives.
During 31 years of teaching, she taught more than 5,000 students! One individual expressed that "Miss Fullerton was such a rare person to touch and influence so many". She took one person at a time, not one classroom or one year; she became a friend, a mentor, making each one feel "special". Many became lifelong friends. My wife and I have exchanged holiday cards with her for the last 25 years.
She taught at Bethesda-Chevy Chase High School for 10 years, 21 years at North Shore High School on Long Island, and earned a Master's Degree from Syracuse University. In 1980, she retired early to take care of her ailing mother and moved to her home town of Wilmington, Delaware. To me, she was always addressed as "Miss Fullerton" - never "Ann".
In my senior year at B-CC, she said, "You have such great hand-eye coordination, I think you should become a surgeon," the same thing that my mother had said. So I enrolled in college as a pre-med student. The skills and study habits I learned from Miss Fullerton's classes proved invaluable, and I graduated from medical school in 1965. After 14 years of undergraduate and medical school, internship, residency, surgical research fellowship and serving two years in the Air Force Medical Corps (one of which I volunteered for Vietnam, which was the best possible training for a young surgeon), in 1972 I began the practice of surgery in Phoenix, AZ, retiring in 2005. After retirement, Sarah and I decided to travel as much as we could, physically and financially.
The last time I saw Miss Fullerton was in 2017. I was attending a medical meeting in Philadelphia, rented a car and drove to Wilmington and took her to her favorite luncheon restaurant. I was amazed at how bright and clear her mind was! We must have talked for several hours. Upon returning, I received the tour of her cat collection. That was the last time I saw her. We continued to exchange holiday cards until 2020.
Goodbye, Miss Fullerton! We were all the better for what you taught and the inspiration you gave. YOU WILL BE MISSED!
Thank you, and Rest in Peace!
Robert V. Stephens, Sc.M, M.D.
Class of 1958, Bethesda-Chevy Chase High School
Bachelor of Science, Indiana University, 1962
Doctor of Medicine, Indiana University, 1965
Surgical Residency, Brown University, 1966-71
Research Fellowship, 1968-69, Brown University
Clinical Prof. of Surgery, Emeritus, Indiana University School of Medicine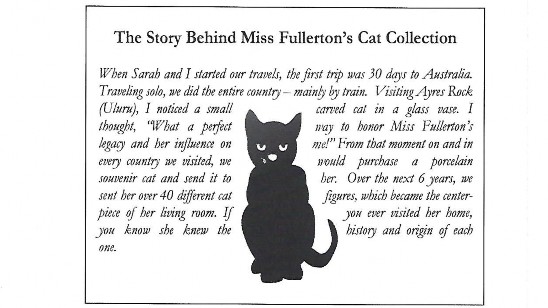 "A teacher affects eternity; he can never tell where his influence stops."
- Henry Adams, American Man of Letters, 1907
"A mind is but barren soil - a soil which is soon exhausted and
will produce no crop, or only one, unless it is continually
fertilized and enriched with foreign matter."
- Joshua Reynolds, English painter, 1774