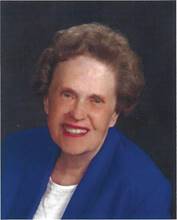 Ann Elizabeth Fullerton, 96, passed away on July 13th, 2021. She was a nationally acclaimed biology teacher, with decades-long career in Maryland and New York public schools.
Ann was the eldest daughter of Albert George Fullerton and Blanche Elizabeth Taylor Fullerton of Brack-Ex. She graduated from Alexis I. DuPont High School and Western Maryland College (now McDaniel), magna cum laude, with a BA in Biology. She received her MS from Syracuse University. She taught biology at Bethesda-Chevy Chase High School, Maryland, from 1947-1958 and at North Shore High School, Long Island, from 1959-1980, when she retired to care for her mother.
In 1974, Ann was named Teacher of the Year by the NY State Society of Professional Engineers, Nassau County, and in 1975 she was further honored as Biology Teacher of the by the State of New York. She helped to write the biology curriculum of the NY State Regents exams, and developed syllabi for advanced biology in the North Shore School District.
She received numerous National Science Foundation grants for continuing education during her teaching career. She was a member of the Montgomery County (MD) Teachers Association, the National Education Association, the National Biology Teachers Association, the North Shore Retired Teachers Association, the NY State United Teachers Union, the North Nassau Retired Teachers Association, and the NY State Retired Teachers Association. Locally, she was an active member of Delta Kappa Gamma for over 70 years and PEO, Chapter E, as well as the United Methodist Women of Aldersgate.
In 2005, she was honored with an eightieth birthday party attended by many of her former students who came from across the United States to surprise her with a trip on the Wilmington & Western Railroad, concluding at the Hunter's Den restaurant with an evening of tributes and celebration.
Ann was an avid traveler, visiting the USSR and Eastern Europe in the early 1960s, Mexico, England several times, and throughout the United States. Later in life she provided a loving home for a number of rescue kitties who brought her much joy and companionship. She lived independently in the same Wilmington house she had grown up in, meticulously caring for the home, lawn and garden.
She is survived by her sister, Margaret Eipper of Hockessin, a niece, Mary Elizabeth Simmons (Jeffrey), a nephew, John Eipper (Aldona), a great niece Dr. Kristen Simmons (Corey), a great nephew Eric Simmons, her close friend Catherine Raphael, and many beloved Taylor cousins.