ACADEMY HONORS 2005 NICHOLL FELLOWSHIP WINNERS
BEVERLY HILLS, CA - Six new screenwriters, two who wrote collaboratively, were honored tonight (November 10) as recipients of the 20th anniversary Don and Gee Nicholl Fellowships in Screenwriting, presented by the Academy of Motion Picture Arts and Sciences. Each writer or writing team received the first installment of the prestigious fellowship's $30,000 prize money at a gala dinner in Beverly Hills, at which Academy Award-winning writer Charlie Kaufman was the keynote speaker.
This year's winners are (listed alphabetically by script title):
"The Days Between," Morgan Read-Davidson, Downey, California
"Fire in a Coal Mine," Seth Resnik, West Hollywood, and Ron Moskovitz, Los Angeles
"No Country," Michael D. Zungolo, Philadelphia, Pennsylvania
"Pirates of Lesser Providence," Colleen Cooper De Maio, Los Angeles
"Ring of Fire," Gian Marco Masoni, Santa Monica, California
This is the third consecutive year that a script written by a team earned its writers a fellowship; collaborative efforts were first allowed into the competition in 2001. The winners were selected from nearly 6,000 scripts submitted for this year's competition, which is open to any individual who has not sold or optioned a screenplay or teleplay for more than $5,000 or received a fellowship or prize that includes a "first look" clause, an option, or any other/ quid pro quo/ involving the writer's work.
Nicholl dinner keynoter Charlie Kaufman took home an Oscar statuette earlier this year for his original screenplay "Eternal Sunshine of the Spotless Mind" (2004). Kaufman previously earned Academy Award nominations for "Being John Malkovich" (1999) and "Adaptation" (2002). Academy Award-nominated writer Susannah Grant, a 1992 Fellow who now serves as chair of the Academy's Nicholl Committee, also spoke, as did 1993 Fellow Dawn O'Leary and 1996 Fellow Ehren Kruger. Grant wrote this year's "In Her Shoes" and in 2000 received an Oscar nomination for her "Erin Brockovich" screenplay. She also wrote or co-wrote "28 Days," "Ever After," and "Pocahontas." O'Leary's "Admissions" (aka "Island of Brilliance"), her Nicholl winning script, premiered at the Mill Valley Film Festival in 2004. This year saw the release of three films written by Kruger: "The Ring Two," "The Skeleton Key" and "The Brothers Grimm." His previously produced credits include "Arlington Road," "The Ring," "Scream 3" and "Reindeer Games." Final judging of the 2005 competition was conducted by the Nicholl Committee, chaired by Grant and comprised of writers John Gay, Fay Kanin and Hal Kanter, cinematographers John Bailey and Steven Poster, editor Mia Goldman, actor Eva Marie Saint, executive Bill Mechanic, producers Gale Anne Hurd, David Nicksay and Buffy Shutt, and agent Ron Mardigian.
Fellowships are awarded with the understanding that the recipients will each complete a feature-length screenplay during the fellowship year. The Academy acquires no rights to the works of Nicholl Fellows and does not involve itself commercially in any way with their completed scripts.
Since the program's inception in 1985, 93 fellowships have been awarded, and a number of the fellows, in addition to those previously mentioned, have achieved considerable success. Raymond De Felitta, a 1991 Fellow, directed this year's "The Thing about My Folks." Previously, De Felitta wrote and directed "Two Family House" (from his Nicholl Fellowship year script) and "Cafe Society." Other notable successes include last year's critically acclaimed "Mean Creek," written and directed by Jacob Estes from his 1998 Nicholl-winning script, and "Dirty Dancing: Havana Nights," co-written by 1993 fellow Victoria Arch. 1998 Fellow Mike Rich wrote "Radio," "The Rookie" and "Finding Forrester," which was his Nicholl-winning script. In addition, 1998 Fellow Karen Moncrieff's "Blue Car" was released in 2002, and Allison Anders, a 1986 Fellow, is the co-writer and director of "Things Behind the Sun" and the writer-director of "Gas Food Lodging" and "Mi Vida Loca." 1992 Fellow Andrew Marlowe wrote "Air Force One," "Hollow Man" and "End of Days." 1986 Fellow Jeffrey Eugenides won a 2003 Pulitzer Prize for his novel "Middlesex."
Leslie Unger
Publicity Coordinator
Academy of Motion Picture Arts and Sciences
310-247-3000
lunger@oscars.org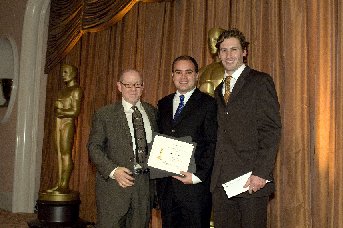 Seth Resnik (right) with Nicholl Committee member Steven Poster (left) and Seth's writing partner, Ron Moskovitz (center).