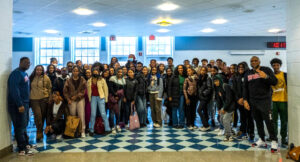 The Foundation is proud to support a new program, the Black Student Union SAT Prep Course, in partnership with PrepMatters. The program builds on the enthusiasm generated by last year's Foundation-funded BSU visits to historically black colleges and universities and provides another avenue of assistance to higher education opportunities.
The Foundation recently collaborated with Ned Johnson, esteemed author and the president and founder of PrepMatters, to provide twice weekly SAT prep sessions for BSU students. Students shared that they found the math portion especially helpful as it included content not covered in their daily classes. In addition, Ned's anti-anxiety strategies will help boost the students' performance as they anticipate taking the SATs, many of them for the first time.
With your support, we can continue to offer this program, and many others that help close opportunity gaps and open college and career pathways for all B-CC students.