Come to the Ball Game – Wed., July 21, 2010, 7:30pm, Shirley Povich Field, Bethesda
The B-CC HS Educational Foundation and Bethesda Big Train Baseball invite you to a baseball game on Wed. evening, July 21, 7:30pm at Shirley Povich Field, 10610 Westlake Dr., Bethesda. B-CC students will sing the national anthem and Foundation president Matt Gandal will throw out the first pitch. Bring your friends and family. Tickets are $10 each. Mail your check to B-CC HS Educational Foundation, c/o Ronna Borenstein, 8905 McGregor Dr., Chevy Chase, MD 20815. Please include your email. You'll get an email confirmation and your tickets will be waiting for you at the game. Questions? Contact Ronna Borenstein or Carole Brand. More on Bethesda Big Train Baseball at http://www.bigtrain.org/
Alums Are Invited to B-CC's Sixth Annual Writing Contest Award Ceremony – Tues., May 18, 2010, 3-5pm, Writer's Center
Winners of the Sixth Annual Bethesda-Chevy Chase High School Writing Contest, sponsored jointly by the B-CC HS's English Department, Chips (B-CC HS's literary-art magazine), the Writer's Center, and the B-CC HS Educational Foundation, will receive their awards at a special ceremony on Tuesday, May 18, 2010, 3:00-5:00pm at the Writer's Center, 4508 Walsh Street, Chevy Chase, Maryland 20815.
Past members of the Chips staff and alums are invited to join us at this ceremony where this year's winners and this year's Chips contributors will read their work.
B-CC HS Educational Foundation Annual Report/Alumni Newsletter 2009 Now Online
To help conserve the world's trees and the Foundation's funds, we did not print out paper copies of the 2009 B-CC HS Educational Foundation Annual Report/Alumni Newsletter. However, you can view it online at http://www.bccedfoundation.org/annualreports/annualreport2009.pdf
Listen to the Blue and Gold Song on the Web
B-CC HS Educational Foundation Board member Andrea McCarren, a multimedia journalist at WUSA Channel 9, has put together a slide show on the Foundation that can be viewed on YouTube (http://www.youtube.com/user/BCCEdFndn?feature=mhw4) and Facebook (http://www.facebook.com/group.php?gid=232484054968&ref=mf). The music accompanying the slide show, including B-CC's Blue and Gold song, was performed by current B-CC students. As far as we know this is the first time ever that the B-CC song, written in the 1920s, can be heard over the Internet. You can get the text and the score of the song by clicking on the "school song" button at the top of this page.
B-CC's New Tattler Online
The County's oldest student newspaper has stepped into the digital age. The new online TattlerExtra is designed to complement the print version of the Tattler, with more comprehensive and timely news and the ability to be more interactive. Check it out at http://tattlerextra.org/
!974 Alum is B-CC's 2010 Graduation Speaker
John Harwood ('74) is B-CC's 2010 Graduation Speaker on June 2. John is chief Washington correspondent of CNBC and a political writer for the New York Times. He began his journalism career while at B-CC as a copy boy at the Washington Star. He studied history and economics at Duke University and graduated magna cum laude in 1978....>>more at http://www.cnbc.com/id/15838123
B-CC HS Educational Foundation Annual Fund Drive
County funding is insufficient to meet the needs of a student population as diverse as B-CC's. The B-CC HS Educational Foundation, relying entirely on contributions from the B-CC community, is the principal private funding vehicle for offering academic excellence and opportunity for all B-CC students. You can donate either by mail or online, at http://www.bccedfoundation.org/donationform.html
Generous Class Gifts from Class of 1959, 1966 and 1968
Class of 1959, 1966, and 1968 made very generous donations to the Foundation this past year. In FY2009, 234 alums contributed $60,000 to the Foundation. We encourage all classes to consider marking their reunion with a class gift to B-CC through the Foundation. See letter from Foundation president Matt Gandal ('85) http://www.bccedfoundation.org/alumni/matt-alum-letter.pdf
Alumni Author Event
On April 25, 2010, the B-CC HS Educational Foundation co-sponsored with the Town of Chevy Chase an author event to highlight the accomplishments of two B-CC alums, Laurie Strongin ('83) and Sarah Pekkanen ('85), whose books were released this past March. The joint discussion was moderated by former social studies teacher Ed Mullaney (Mr. B-CC). Laurie's book, Saving Henry, is about her experience giving birth to and raising a boy with a rare chromosomal disease – the medical and ethical issues her family confronted and, most importantly, the lessons learned from a young boy who faced immeasurable challenges but lived his life to the very fullest. Sarah's book, The Opposite of Me, is a fictional piece about the experiences of twin sisters who have very different looks and personalities. A nice mix of alums and former B-CC faculty listened to the authors discussing the paths that led them to write their books and relating their professional experiences back to their days at B-CC.
More on Laurie Strongin ('83)
A riveting article on Laurie Strongin ('83) and her husband's battle to try to save their son appeared in the March 25, 2010 issue of The Washington Post http://www.washingtonpost.com/wp-dyn/content/article/2010/03/24/AR2010032402985.html?sub=AR and a touching interview can be seen on Bob Woodwards Weekend Podcast, March 20-21, 2010 http://www.bobedwardsradio.com/bew-march-2010/
Alumni Helped Return Three Historic Murals to B-CC
The generosity of our alums has enabled the Foundation to bring back three of the historic murals that were on the walls at B-CC between 1940's and 1999 but couldn't be saved during B-CC's modernization because of asbestos in the walls. The new Youthquake, is a gift from artist Philip Hutinet ('88) who painted the original in his senior year at B-CC. The recreated Elvis mural was a gift from the Class of 1975 http://www.bccedfoundation.org/annualreports/annualreport2005.pdf, p. 7; and the recreated 1946 B-CC Mural was donated by the Class of 1956 http://www.bccedfoundation.org/annualreports/annualreport2009.pdf, p. 6 and the July 14, 2009 Gazette article, "Lost Murals Re-created by Friends of School". See all the historic murals at http://www.bccedfoundation.org/alumni/bcc_photogallery/murals/index.htm
Alums and Community Members Attended Foundation Community Event
Almost 200 alums and community members gathered at the B-CC HS Educational Foundation's 4th Annual "Wine, Chocolate, & Cheese" community benefit event on Thursday, March 11, 2010, at the Woman's Club of Chevy Chase. This year's honoree was Bruce Adams, founder/director of B-CC's Lazarus Leadership Fellows Program, founder/president of Bethesda Big Train Baseball, and former Montgomery county council member. Please email Carole Brand if you would like to receive an invitation to next year's event.
Class of 1963 Tattler, Spring 2010, is Now Online
Jeff Stuart ('63) has once again put together an excellent edition of the Class of 1963 Tattler - the Spring 2010 issue. It has an interview of Mr. Appleton, social studies teacher at B-CC, that may be of interest to other classes…. http://www.bccedfoundation.org/alumni/class1963.tattler.html. The accompanying Class of '63 Tattler Extra, filled with photos, will take many of you down the memory lane http://www.bccedfoundation.org/alumni/class1963.tattlerv6.extra.pdf
A Horse Named BEE CEE CEE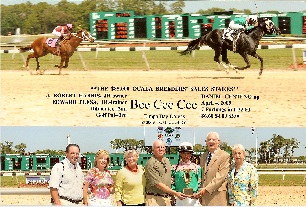 Bob Harris ('36) named his horse BEE CEE CEE after his alma mater. The three-year-old colt has had successes racing in Florida this past year, including a first-place finish in a stake-race on April 4, 2009 at Tampa Bay Downs, shown here in the photo. Also in the photo, standing to the jockey's left, are Bob's son, Rob Harris ('66) and Rob's wife, Barbara Burrer Harris ('67).
1970 Alum Has New Book
Linda Reid (Yolanda Stassinopoulos, '70), along with co-author Deborah Shlian, has a new mystery thriller, Dead Air, released this past December by Oceanview Publishing. Dead Air (Oceanview, IBSN: 978-1-933515-50-2) introduces protagonist Sammy Greene, host of a talk show at a campus radio station. After Sammy discovers the body of Dr. Burton Conrad, one of the college's most esteemed professors, and starts delving into what happened, several students mysteriously disappear and Sammy's own life is at risk.
Watch the trailer for Dead Air at: http://www.sammygreene.com/Sammy_Greene_website/Trailer_2.html
1976 Alum Has New Book
Steven Feldman ('76) has a new, thought-provoking book, Compartments: How the Brightest, Best Trained, and Most Caring People Can Make Judgments That Are Completely and Utterly Wrong, a unique text that explores the mechanisms that drive misunderstanding. Dr. Feldman examines "the underlying structure that causes conflict between different factions in medicine, business, government, and even religion", hoping that such understanding will help people avoid needless disputes and intractable conflicts….>>more at http://www.compartmentsbook.com/index.html
1988 Alum Re-created His Mural for B-CC
Philip Hutinet ('88) spent the last year re-creating his 1988 "YOUTHQUAKE" mural for the Foundation as a gift to B-CC. The finished mural was unveiled on April 9, 2010 at B-CC's International Night and Student Art Show. "The B-CC murals spoke of the zeitgeist, the spirit of time, in which the students had lived," said Philip at the dedication, "The 30s murals were endowed with that neo-realism quality, the 40-50s with the glee club appeal, the 70s had men with long hair relaxing under a tree and my person favorite, the David Bowie Ziggy stardust mural. Youthquake captures the frenetic alternative music scene of the eighties...." You can see Philip's entire remark at http://bccedfoundation.org/alumni/youthquake.pdf.
1990 Alum Among Top Women to Watch 2010
Janet Balis ('90), has just been named one of 25 "Women to Watch" in 2010 by Advertising Age…. http://adage.com/womentowatch2010/article?article_id=144220
1994 Alum Doing Crop Research in Kenya
Jagger Harvey ('94) is currently working on research on plant-viral diseases affecting African crops at the Biosciences eastern and central Africa (BecA) Hub, an initiative hosted and managed by the International Livestock Research Institute in Nairobi., Kenya. As a child, Jagger traveled frequently between Haiti, where his mother's family is from, and Seattle, Washington, where his father's family is from, and was struck by the disparity between life in the first and third world. After graduating from Washinton and Lee University in Virginia, Jagger decided to use his love for plant science to help the developing world through plant genetics. Jagger investigated the genetic regulation of programmed cell death in plants at the University of California at Davis, and as an NSF postdoctoral research fellow, conducted research on plant-virus infections at the Sainsbury Laboratory in Norwich and at the University of Cambridge in England. Jagger was featured in the 2009-09-25 issue of the journal Science http://sciencecareers.sciencemag.org/career_magazine/previous_issues/articles/2009_09_25/caredit.a0900116
1997 Alum Won Advertising Industry's 2009 Best Music Award
Nathaniel Morgan ('97) won the 2009 AICP (Association of Independent Commercial Producers) "Best Music" Award for his original music for the Audi "Living Room" TV Spot. http://www.shootonline.com/go/index.php?name=Release&op=view&id=rs-web2-1104495-1244649500-2
B-CC Fundraiser at Politics & Prose – Nov. 15 & 16, 2008
20% of your purchase goes to B-CC! Shop at Politics & Prose on Sat., Nov. 15, 9am-10pm. and Sun., Nov. 16, 10am-8pm. Buy your favorite books, CDs, DVDs, stationary, totes, mugs. Do your holiday shopping. Check out the large Sale Books section. Tell the cashier that you are supporting B-CC! Politics & Prose, an independent bookstore, is located at 5015 Connecticu Ave., NW, Washington, DC Directions
1986 Alum Has New Play
New York City Playwright Stefanie Zadravec (class of '86) will have the world premiere of her play Honey Brown Eyes, at Theater J in Washington DC this fall. Honey Brown Eyes, about the war in Bosnia, was a finalist for the 2007 Smith Prize and a semi-finalist for the 2008 Princess Grace Award. Shows run from Oct 22- Nov 30 2008 and can be purchased online at: http://washingtondcjcc.org/center-for-arts/theater-j/08-09-season/honey-brown-eyes/honey-brown-eyes-main-page.html
Synopsis: Set in 1992 in the midst of the Bosnian war, this play follows the parallel stories of two soldiers; one in a kitchen in Sarajevo and the other in a kitchen in Visegrad, both trying to recover a little of the humanity they've lost during the war. A Serbian paramilitary played by Alexander Strain must face the consequences of his own brutality, while a Bosnian resistance fighter, crippled by the limits of his own courage, seeks refuge with a kindred soul. In this play by DC-born playwright Stephanie Zadravec, unlikely partnerships emerge amidst a story of horror, humanity, and stunning relevance. "It's a story of how Bosnians and Serbs, who used to make music together, admire and even love each other, can, in the course of a decade, turn into mortal enemies," explains Roth. "The play has the courage to show the heart and the still beating conscience in both perpetrator and victim." Zadravec's work has been presented at The Barrow Group, Bay Street Theatre, Phoenix Theatre, The Kennedy Center, Vital Theater, Mae West Fest, and New York Theatre Barn.
Make a Difference. Be a Mentor.
Please consider making a difference to a B-CC student's life. B-CC's mentoring program is in need of mentors to help at-risk 9th graders who need encouragement and guidance. Volunteers will meet with the students individually at B-CC once a week, for an hour, after school during the school year, plus a coaching session once a month. Training will be provided. Next session will be on October 13, 2008 at 2:45pm at B-CC, but Debbie Newman, coordinator of the program, will be happy to train and brief volunteers individually. Please email Debbie Newman, or phone her at 240-497-6356.
Class of 1960 Has New Official Website
The B-CC Class of 1960 Reunion Committee has established a new interactive B-CC Class of 1960 Reunion Web Site for our classmates. Our Web Site will keep classmates posted on our upcoming 50th B-CC Class Reunion, tentatively scheduled in 2010. Additional features of our B-CC Web Site include: an interactive class message board; a class directory; class calendar; reunion/event (e.g., dinners) announcements; and the potential for classmates to post class news and to edit their own personal and biographical information. Please log onto the Official B-CC Class of 1960 Web Site to register by clicking on the following hyperlink http://www.classreport.org/usa/md/bethesda/bcchs/1960/ or by copying and pasting the hyperlink into your browser address bar, then press ENTER. When the "BCC 1960" web page appears, click on "Click Here to Register" and follow the remaining steps to register. If you have questions, please email Peter M. Salisbury, Judy Colton Christensen, or Patricia Walsh Hahn
Barons to Play at Washington Nationals Stadium
B-CC's Varsity Baseball Team will play Walt Whitman High School on Tuesday, May 6, 2008, at 6:00pm, at the new Washington Nationals Stadium in DC. Admission is free. All are welcome for this exciting, historic high school and community event. Bring your families and friends to cheer on the Barons. This is a regular season game. Entry for fans will begin at 5pm. The first pitch will be at 6pm. Lot C (on 1st and N St. SE) will be open for parking. Stadium is also easily accessible via Metro, Green Line, Navy Yard exit. Fans will enter through the Centerfield gate area and will sit in the areas right behind home plate, between the two dugouts. The Nationals will be providing security personnel. More information on the B-CC HS website, http://www.montgomeryschoolsmd.org/schools/bcchs/index.shtm
B-CC's 4th Annual Battlin' Barons Golf Classic
B-CC's 4th annual Golf Classic - Sunday, May 4, 2008, 1:00pm, Poolesville Golf Club. There will be dinner, silent auction, and awards immediately following golf at 6pm (cash bar). You can sign up to play, or to sponsor a hole, or just to attend the dinner/silent auction/awards program. Proceeds from the event will underwrite two needs-based college scholarships, which will be awarded to two B-CC students for outstanding leadership and sportsmanship... More information and sign-up forms are available here.
B-CC's 2008 Used Book Sale and Literacy & Arts Festival — Sat. April 5, 12-5pm, & Sun. April 6, 10am- 4pm, B-CC Cafeteria
The B-CC Used Book Sale and Literacy & Arts Festival has something for just about everyone. NYT Bestsellers? Washington Post Notable Books? Pulitzers, Nobels, Caldecotts, and Newburys? The B-CC's Used Book Sale has them in abundance. Paperbacks $1; Hardbacks $2. All proceeds benefit the PTSA. Come and hear B-CC musicians, a poetry slam, and Shakespeare. Enjoy a bite to eat while listening to B-CC's musicians. Children's activities all day. Kids can learn Braille and sign language or make puppets. See students' autobiography books. Find out who at B-CC has published a book, recorded a CD, or written a screenplay.
Calling All Alumni Authors, Musicians, Playwrights, Movie-Makers
Display your works at B-CC's Book Sale and Literary/Arts Festival on Saturday and Sunday, April 5-6, 2008, at B-CC Cafeteria. Please email to Peggy Hsieh a pdf of your book jackets and CD/DVD covers, with a bio that includes your B-CC class year and any personal website. Please send them ASAP so they can be included in the display and binder. Questions? Email Peggy.
See Press Release for more information on the Used Book Sale
Tattler's 80th Anniversary Edition
The Tattler has been published for 80 years. To mark this achievement, this year's staff has put together the 80th Anniversary Edition. You may view this by clicking on the links below:
The 80th Anniversary Edition (all sections are pdf files, adobe reader required)
Section A - Front Section (2.6 mb)
Section B - School (4.2 mb)
Section C - Student Life and Community (8.6 mb)
Section D - Sports (6.6 mb)
1980 Alum Is Featured Author at B-CC's Used Book Sale/Literacy & Arts Festival
Sandy Burk ('80)—Let the River Run Silver Again! Subtitle: How One School Helped Return the American Shad to the Potomac River -- And How You Too Can Help Protect and Restore Our Living Waters (McDonald & Woodward , 2005)
The story of students in the B-CC cluster helping restore American shad is featured in this award winning book Let the River Run Silver Again! by Sandy Burk, student shad project assistant coordinator and B-CC alumna (1980). The book features B-CC students and all the schools that have helped bring back the American shad to the Potomac. Ms. Burk will be signing books from 11-4 pm on Sunday, March 25, 2007 at B-CC's Used Book Sale/Literacy & Arts Festival. Come by and say hi! All proceeds from the sales of the book at the festival go to the Trout Unlimited fish camp for youth and the fish restoration programs of the B-CC cluster. You can order the book on www.amazon.com or www.mwpubco.com. For more information on the book, go to http://www.mwpubco.com/LetRiverRunSilver.htm. Visit www.potomacriver.org for more information on the current shad restoration program.
1994 Alum's Film Screened at DC International Film Festival
Molly Blank ('94) will have her film Testing Hope screened on March 15, 2008 at the DC International Film Festival. Testing Hope is a film about education in South Africa. For more information about the film, please go to www.testinghope.com
1963 Alum Has New Book
Judith (Footer) Barr ('63)—Power Abused, Power Healed. Subtitle: Power, like lightning, is a raw, vibrant force of nature . . . with the potential for great harm and the possibility for magnificent good (Mysteries of Life, 2007). Find out more at B-CC Alumni Authors
Chet Culver elected as Iowa Governor
Chet Culver ('84) was elected the 40th governor of Iowa this past November. After graduating from B-CC, Chet attended Virginia Tech in Blacksburg, Virginia on a football scholarship, earning a B.A. in political science. He also received a Master of Arts in Teaching from Drake University in 1994....>>more
Zapruder Brothers Performed in DC at Thanksgiving
Michael Zapruder (') performed at the Red and the Black (Joe Englert's bar, for you DC-ers in the know) on Sunday, Nov. 19 at 8 pm., and Matthew Zapruder (85') read from his new book, The Pajamist, at Politics and Prose, followed by a wine and cheese reception at the bookstore, on Sunday Nov. 26 at 5 pm.
2006 Alum Won Maryland Distinguished Youth Award
William (Sam) Felling ('06) is the recipient of the 2006 Maryland Distinguished Youth Disability Award. This award acknowledges students with disabilities who have surmounted barriers that have enabled them to achieve their goals and assists students with disabilities to obtain further education or enhance their opportunities to obtain employment. Felling was an exemplary student in high school, ending his tenure with a 4.0 grade point average. Sam is now furthering his education at Montgomery College.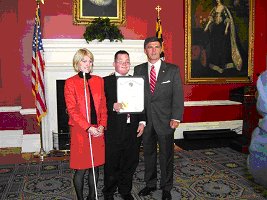 Felling with Governor Ehrlich and Secretary
of the Department of Disabilities, Kristen Cox

1989 Alum Produced First Film

Yassy Naficy ('89) is the associate producer of a romance thriller, "Immortally Yours", to be released later this year. Taking a break from her overseas consulting career, Naficy has produced her first film with noted director Joe Tornatore. This winter, the two will start work on "The Rogue", a political thriller written by Naficy. Find out more on Naficy and the films at http://www.immortallyyoursmovie.com/productionteam.html and http://www.therogue-movie.com/about_the_authors.html

Memorial Service for Ms. Eleanor Bingham, Former B-CC Teacher, Sat., Jan. 28, 2006

Eleanor Bingham, former foreign language teacher at B-CC, passed away on December 30, 2005 in California at the age of 97. Ms. Bingham taught German and French at B-CC from 1950's to 1968. A memorial service will be held on Saturday, January 28, 2006 at 10:30 a.m. at First Baptist Church, 1328 16th St. N.W., Washington, DC... >>more

1990 Graduate Won Prestigious Screenwriting Award

Seth Resnik ('90) has been awarded the 20th anniversary Don and Gee Nicholl Fellowship in Screenwriting, presented by the Academy of Motion Picture Arts and Sciences. Seth and his co-writer Ron Moskovitz won the prestigious fellowship for their work "Fire in a Coal Mine,"one of five winners selected from nearly 6,000 scripts submitted for this year's competition. Each writer or writing team received the first installment of the fellowship's $30,000 prize money at a gala dinner in Beverly Hills on November 10, 2005... >>more

B-CC Alumni Invited to Pre-Show Reception, 12/16/05

All B-CC Alumni are invited to reconnect with old friends this Friday night (Dec. 16, 2005) at B-CC's FABULOUS production, "URINETOWN! The Musical!" Meet before the show at the Alumni table in the lobby, enjoy snacks and drinks (courtesy of Theater Arts Boosters) and take in the show, 7:30-10:30p.m.
"Urinetown" is a Tony Award-winning musical comedy described as "fresh, unique, original, impudent, colorful, exciting, irreverent, surprising, and wonderful!" (New York Observer)
Scene: Gotham-like city suffering from years of drought. To save water, public pay toilets are only way to "go", and Caldwell B. Cladwell's Urine Good Company controls the monopoly. Those who don't comply are banished to "Urinetown," never to be seen again.
This is a HILARIOUS story of greed, corruption, love, revolution, personal liberty, and environmental awareness, all told with tongue firmly in cheek and accompanied by fantastic music and vibrant choreography. If you are a lover of Broadway, here's an extra reward: it spoofs everything from Les Mis to West Side Story.
Once again, B-CC Theater is on the cutting edge as one of the first high schools in the nation to stage this show, complete with student-built sets and costumes and B-CC's live orchestra.
Tickets are $8 in advance and $10 at the door. For more information, please go to http://www.mcps.k12.md.us/schools/bcchs/performingarts/theater/urinetown.html

JFK Speech to Class of 1959 Commemorated

At the MCPS Board of Education meeting on October 24, 2005, members of the illustrious Class of 1959 presented B-CC HS's principal Sean Bulson with a plaque commemorating the then-Senator John F. Kennedy's speech at their graduation. The Honorables Roger Titus and Peter Messitte spoke for the Class of 1959. Mark Shriver, representing the Kennedy family, recounted how JFK's spirit of service to humanity has lived on not only with the Class of 1959, but also with the current B-CC students... >>photos and more

A Tattler Reunion

Former editors of the B-CC Tattler (pictured above) from the classes of 1973 and 1974 had an informal Tattler alumni reunion Sunday, October 23, 2005, at the home of the mother of one of their members in Chevy Chase. Most present had not seen each other for over 30 years, but the conversation and discussion picked up from where they had left off. All agreed that none had changed a bit.
Many of the former editors are now professional journalists. Among the current employers represented by the assembled Tattler alumni at the reunion are (in no particular order): The Wall Street Journal, The Los Angeles Times, The Boston Globe, The Congressional Quarterly, People magazine, and The Providence [RI] Journal.
The group unanimously credited the late Ben Allnutt, who taught journalism at B-CC and who was the Tattler adviser for many years, for having taught each of them how to write, for having nutured their interest in journalism, and for having instilled in them an understanding of and desire to achieve professionalism and excellence. They also remembered a late classmate, Mike Bredhoff, the Tattler photographer, whose pictures were truly exceptional and whose contributions to the success of the Tattler in the early '70s cannot be overstated.
A number of the alumni took a tour of the "new" B-CC the next day. They visited the Tattler offices and met with current Tattler editors. The alumni were very pleased to see the many award-plaques from their years on the wall. (Special thanks to Nicholas Serwer, '74, for this report.)

1988 Graduate Has Recent Book Reading

Matthew von Unwerth ('88), a former Chips editor at B-CC, did a reading of his just published book, Freud's Requiem: Memory, Mourning, and the Invisible History of a Summer Walk (Riverhead/Penguin, 2005) at Politics and Prose in Washington, D.C. on October 9, 2005. In a message to Ms. Evanthia Lambrakopolis, B-CC English teacher, Matt wrote. "I live in New York City now .... I'm particularly glad to be able to have the D.C. event at Politics and Prose, which was a regular hangout in the high school days....."
From Publishers Weekly:
"Psychoanalyst Von Unwerth's lyrical meditation focuses on an obscure and largely unexamined essay of Freud's, "On Transience,".... Emphasizing the literary qualities of Freud's work, and providing various proofs of the aging psychoanalyst's nostalgic relationship to his own past, including the locales of his childhood and the experience of lost adolescent love, Unwerth proffers biographical interpretations of Freud's theories on love, attachment, narcissism, grief and mourning, in an accessible, intriguing and daringly speculative study of a little-known work by the "father of psychoanalysis.""

1977 Graduate's First Novel

Julia Slavin ('77) first novel, Carnivore's Diet, was published this summer by W. W. Norton & Company.
From the Publishers Weekly:
"The surreal invades the quotidian with results both horrific and hilarious in Slavin's first novel, after her well-received collection, The Woman Who Cut Off Her Leg at the Maidstone Club.....Relentlessly weird but also surprisingly moving, Slavin's novel should please any reader ready for a break from the familiar."
From the Washington Post's Book World:
"This immensely appealing first novel starts out drop-dead funny, then a bit past the halfway mark does a 180 and turns drop-dead serious..... There's almost nothing ordinary about Carnivore Diet, and that's a large part of its appeal. Julia Slavin is daring, sassy and imaginative."

Seeking Information on Early B-CC Symbol "The Highwaymen"

Dear B-CC HS Alumni -

I am a B-CC junior class officer (2007) seeking information and images, especially any logos, cartoons, or other graphics, for the early B-CC HS Nickname and Mascot/Symbol, "The Highwaymen".*
The images may be used as a graphic by our class government to promote school spirit by invoking our earlier pre-Baron heritage of those B-CC HS pioneers who made our school great before and during WWII.
Please contact me at jeff.eagan@verizon.net or 301 524-5392. I look forward to hearing from you. Feel free to forward this message to anyone who could help.

Sincerely Yours, Go Barons, Patrick Eagan-Van Meter

(* Editor's note: "The Highwaymen" took root in the fall of 1935 when B-CC's tenth through twelfth graders moved from the over-crowded seven-grade school at Leland to the newly completed building on East-West Highway and Chelton. The students and their sports teams were referred to as the "Highwaymen" until late 1940 when "Barons" defeated "Highwaymen" in a Tattler-sponsored nickname contest. For more details, see "A Social History of Bethesda-Chevy Chase High School, 1925-1980" at http://www.mcps.k12.md.us/schools/bcchs/aboutbcc/profile/history.html )

A 60th Birthday Party for the Class of 1963

The Class of 1963 Reunion Committee is organizing a 60th birthday party for members of the class. The birthday party will be on Saturday, September 10, 2005, 5-10p.m., at The Woman's Club of Bethesda. The day before the party, there will be a golf tournament at the Falls Road Golf Course in Potomac, on Friday, September 9. You can download the information and reservation form here.

Ms. Fullerton's 80th Birthday Party

More than 30 B-CC graduates, from the classes of 1950 to 1960, gathered in Wilmington, Delaware on April 12 and 13, 2005 to celebrate the 80th birthday of their former teacher, Ms. Ann E. Fullerton. Ms. Fullerton taught Biology at B-CC from 1947 to 1958. These graduates came from Arizona, Connecticut, Delaware, District of Columbia, Florida, Maryland, Minnesota, New Jersey, New York, and North Carolina, to honor a teacher who has had major influence on their lives. Joining in the birthday bash were graduates from New York's North Shore High School, where Ms. Fullerton taught after she left B-CC, and many spouses. DVD copies of the celebration are available for $20 each from Cathy Page Raphael (B-CC Class of 1960). See the party photos and the Wilmington News Journal article on the celebration here.

B-CC First-ever Golf Tournament

1st Annual Battlin' Barons Golf Classic – Sunday, May 1, 2005, at 1:00p.m. at the Poolesville Golf Club and Potomac Valley Lodge. A silent auction and banquet will immediately follow at 6:00 p.m. Retiring athletic director Brady Blade will be honored at the banquet. Gather your friends for a fun afternoon of golf, or just come to the silent auction and banquet. Proceeds from the event will be used to underwrite two needs-based college scholarships to be awarded annually by the B-CC Sports Booster Club for outstanding sportsmanship. More information and sign-up forms are available here.

1952 Graduate Qualifies for 2005 National Senior Games

Tom Reel ('52) and his partner won the Silver Medal in men's tennis doubles, 70-74 age bracket, at the Pennsylvania State Senior Games in June and qualified for the National Senior Games in 2005. While at B-CC, Tom revitalized the varsity tennis program after it had had no faculty coach or sponsor for several years. Tom was captain of the College of William and Mary tennis team and was one of 64 national collegiate players invited to the NCAA championships in 1956. He served in the Signal Corps., U.S. Army, in Bremerhaven, Germany in 1957 and '58, and was the #1 ranked American military player in northern Germany during that time.

1961 Graduate Heads San Francisco's Department of Children, Youth and Families

Margaret Hertz Brodkin ('61) has been named Executive Director of the Department of Children, Youth and their Families (DCYF) by San Francisco mayor Newsom. The department enhances the lives of San Francisco's children and youth through innovative partnerships with parents and youth, community organizations, city departments, schools, funders and the private sector ... more

1958 Graduate Has New Book

Sandy Foulis Waugaman ('58)'s new book, Poor Man's Philanthropist: The Thomas Cannon Story, has just been released by Palari Publishing in August of 2004. It is the story of a man of modest means who has been giving away $1,000 checks to people he reads about in the newspaper since 1972, totaling close to $150,000, all on a postal clerk's salary. Her other book, We're Still Here: Contemporary Virginia Indians Tell Their Stories, coauthored with Danielle Moretti-Langholtz, PhD, is being revised currently.

1961 Graduate's New Book Has Just Been Released

Robert V. Friedenberg ('61) just had the fifth edition of his book, Political Campaign Communication: Principles and Practices, which he coauthored with Judith S. Trent, released by Rowman and Littlefield Publishers. The first edition was published in 1983.

1959 Graduate Join Fellow Classmates as Judge of US District Court in Maryland

Roger W. Titus ('59) took office as a judge of the United States District Court for the District of Maryland (Southern Division) on November 17, 2003. He joins fellow classmate Peter J. Messitte on the bench, bringing to fifty percent the proportion of judges there from the B-CC Class of 1959. Peter Messitte will be celebrating his tenth year on the bench in a few months. Other judges from the Class of 1959 include Thomas L. Craven of the District Court of Maryland and retired judge Richard D. Warren. "We all graduated from an exceptional high school and owe a debt of gratitude to our many fine teachers over the years," wrote Judge Titus.

Class of 1999 Alum Drafted by the NFL

Drew Caylor ('99) has been selected by the Pittsburgh Steelers in the sixth round of the National Football League draft in April, 2004. Drew, a 6'6" and 290 lb center and long snapper, has played four years of varsity football at Stanford University. He was a three sport letter winner in basketball, baseball, and football, and a three-year starter in football at guard and linebacker while at B-CC. He made the All county team twice, as a junior and a senior, and the All state team in his senior year. Drew will graduate from Stanford University this spring with a degree in American Studies.

Class of 1987 Alum Performs in New York

Michael Wiener ('87) played several characters, including a sardonic butler, in "The Slug Bearers of Kayrol Island," the latest modern opera from Obie-MacArthur-Guggenheim award-winning director/writer/artist Ben Katchor, world premiering at the Kitchen in New York in association with the Massachusetts Museum of Contemporary Art; and "At Night", an abstract romantic vignette about a Queens cop and a Village girl, from Headquarters ("Laurel Canyon," "High Art") producing partner Ramsey Fong and director Hyoe Yamamoto starring Michael Wiener and Melora Griffis, premieres at the Tribeca Film Festival in early May.
Info/tickets: tribecafilmfestival.com